Myrtle Beach, for the second year in-a-row, was the site for a seminar and retreat for the Ohio Association of Criminal Defense Lawyers (OACDL). I intended to go last year, but the timing didn't work with my schedule. When it came up again this year, I made the event a priority on my calendar. I'm so glad I did. The unique seminar format, the interesting topics and the camaraderie made for a great experience.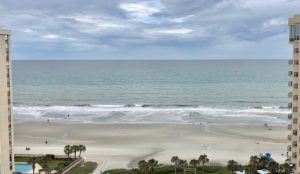 The continuing education part of the retreat was unique. Rather than having the room arranged like a classroom, the tables were set up in a rectangle, like a meeting.  It also didn't hurt to have the beach as a backdrop.  The speakers, rather than giving a monologue presentation, facilitated lively discussions.
Medical Marijuana And Ohio Law
One topic we discussed was marijuana. The Ohio legislature passed a law two years ago permitting the use of marijuana for medical purposes under certain circumstances, but the regulations for the details of medical marijuana have not been finalized. Nevertheless, some Ohio doctors are already 'prescribing' marijuana to patients who are Ohio residents.