Anyone who has been charged with an OVI / DUI in Ohio has had the pleasure of listening to an officer read several paragraphs from the back of a form provided by the Ohio BMV. This often droll recitation is required by Ohio's implied consent law, which says that anyone who operates a vehicle in the state implicitly consents to takes a blood/breath/urine test for drugs and/or alcohol if arrested for OVI. An implied consent law similar to Ohio's was recently found to be unconstitutional by the Georgia Supreme Court.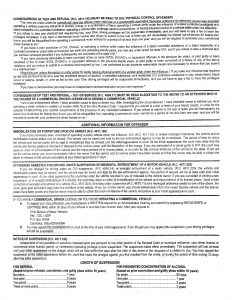 The Georgia Case
That recent case is Elliot v. Georgia. In that case, the Supreme Court of Georgia reviewed the state's implied consent notice. Georgia's notice is very similar to Ohio's in form, with one major difference: Georgia's includes a sentence stating "Your refusal to submit to the required testing may be offered into evidence against you at trial." It was this sentence which led to the Georgia Supreme Court evaluating their implied consent law.
As part of their evaluation, the Court reviewed the history of case law in their state, as well as the evolution of their ten (yes, 10) different state constitutions. Based on this review, the Georgia Supreme Court held the provision allowing the prosecution to use an OVI defendant's test refusal against them in court is unconstitutional. The Court ruled that using a defendant's refusal as evidence against them violated the right against self-incrimination as provided by the Georgia State Constitution.