Some people can't resist. After having drinks, they get a craving, and they have to satisfy it. For some, it's tacos or wings. For others, it's burgers and fries. It's typically not broccoli and kale. And then they go to a drive-thru when perhaps they shouldn't be driving, and they end-up arrested for DUI/OVI. Two recent news-making DUI arrests demonstrate the danger of caving to cravings and driving-thru instead of staying home.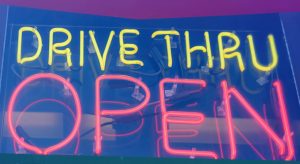 It Happens At The Drive-Thru
In the first case, former NFL running back Darren McFadden was reportedly found asleep in the drive-thru of a Whataburger in Texas. Police were called to the scene, and McFadden allegedly resisted their attempts to apprehend him. Strangely, after being uncooperative, he consented to a chemical test, and the result showed a blood alcohol concentration of .15 or greater. He now faces charges of DUI and resisting arrest, which means a possible sentence of two years in jail.
In the second case, Pennsylvania state representative John Galloway allegedly was involved in a two-car accident in a McDonald's drive-thru. Swartara Township police officers investigated the accident and found Galloway was at fault. They also found he appeared to be under the influence, so they gave him a BAC test. The result of the test was a blood alcohol concentration of .13 (the 'legal limit' is .08).
It Happens Fairly Frequently
At the Dominy Law Firm, we have represented numerous clients who were arrested at drive-thrus or had recently left a drive-thru. Some of those clients were on their way home, but many were at home and decided to leave for a fast food fix. A few have been during the day, but the vast majority are late at night.