Over 20,000 DWI cases in New Jersey are being called into question due to problems with the recalibration of breath-testing machines.  According to New Jersey 101.5, Sgt. Marc Dennis skipped a critical step each time he recalibrated the machines.  Plaintiffs in a class-action lawsuit now seek to vacate thousands of convictions in which evidence was produced by those breath-testing machines.  Although this debacle occurred in New Jersey, it illustrates the importance of properly maintaining breath-testing machines in Ohio DUI/OVI cases.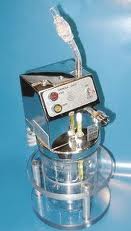 In Ohio DUI/OVI cases, there is a distinction between a calibration and a calibration check.  When breath-testing machines are built, the machines must be 'taught' to identify and quantify alcohol (ethanol).  That 'teaching' process is a calibration.  As a machine is being used by a law enforcement agency, the agency periodically runs a test to confirm the machine produces accurate results.  The test is done using a simulator like the one pictured here.  That periodic test is a calibration check.
Calibration checks, also referred to as 'instrument checks', are done at least once per week in Ohio.  The weekly instrument checks are conducted by the law enforcement agency which owns and/or operates the breath-testing machine.  Some agencies assign the responsibility to one officer, and, in other agencies, multiple officer share the responsibility of conducting weekly instrument checks.