This is the week of July 4th.  For some, that means celebrating our nation's independence with burgers, beer and boats.  As alcohol is often mixed with boating, people are prosecuted and punished for boating under the influence (BUI).  But how do law enforcement officers determine if a person's ability to operate a boat is impaired by alcohol?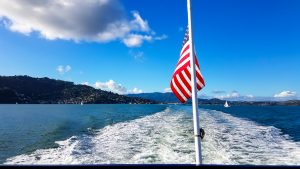 Standardized Sobriety Tests And Sea Legs
Law enforcement officers have historically investigated BUI using the same Standardized Field Sobriety Tests (SFSTs) as those used for DUI / OVI cases on land.  Those tests include the Horizontal Gaze Nystagmus (HGN), the Walk And Turn (WAT) and the One Leg Stand (OLS) tests.
In 1990, the U.S. Coast Guard, in conjunction with the International Association of Chiefs of Police (IACP), conducted a study regarding the utility of the SFSTs in the marine environment.  The report from the study concludes the use of the SFSTs is effective for making the correct arrest decision, and the accuracy of the tests is not degraded in the marine environment.  The report was later criticized because it ignored the effect of 'sea legs' on test performance.