It turns out the criminal defense lawyers were not the only group gathering in Myrtle Beach. It was bike week. Harley Davidson bike week to be precise. Thousands of bikers rolled in to cruise the strip, and a small percentage participated in drag racing, drunk driving and disorderly conduct. While some people were in the tourist town breaking the law, others were there learning about the law. I was in the latter group.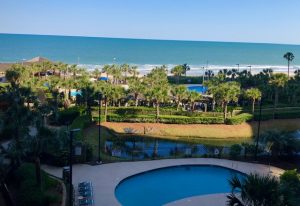 I was there for the Sunshine Seminar presented by the Ohio Association of Criminal Defense Lawyers (OACDL). This is an annual continuing education seminar and retreat for OACDL members. The seminar portion of the event is held in the mornings on Thursday and Friday (in a meeting room overlooking the beach), and the remainder of the time is the 'retreat'.
Cyber Security And Client Competency
The seminar included an interesting presentation on cyber security. I, like many others, believed small business owners need not be especially concerned about being the victim of cyber crimes. However, the speaker explained small businesses, including law firms, are, in fact, targeted by hackers. He also discussed some relatively simple ways to avoid being a victim. A wildebeest does not have the be the fastest in the herd; just not the slowest. Similarly, a small law firm does not need to be super cyber secure; it just needs to not be the low-hanging fruit for cyber criminals.