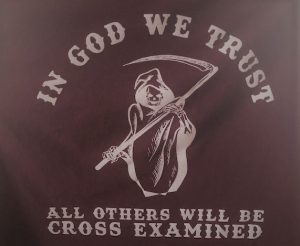 The modern version of the OACDL annual DUI/OVI seminar began in 2002. That means this year we celebrate the 18th birthday of the seminar. I have attended every year, I have participated for many years, and I have been the co-chair for the past few years. Just like parents say about their children, I can't believe it has been 18 years. Like a proud parent, I think this seminar has matured to be one of the best DUI seminars in the country. This year's agenda featured too many speakers to name and too many presentations to summarize, but this article covers some of the highlights.
Learning From Non-Lawyers
We reintroduced a tee shirt this year with the slogan, "In God we trust…all others will be cross-examined". Despite the warning on the throwback tee, we invited many non-lawyer speakers and did not cross examine any of them.
Joshua Ott (Atlanta) is a former police officer with vast experience and credentials in DUI investigations. He discussed what to look for when reviewing law enforcement videos from cruisers and body cams. His presentation highlighted issues which may arise during all phases of the DUI investigation, including the field sobriety tests.
Dr. Lee Polite (Chicago) is the president of Axion Labs, where he provides chromatography training for scientists from around the world. Dr. Polite taught the basics of gas chromatography, the method used to test blood and urine in Ohio DUI / OVI cases. I attended his three-day gas chromatography course in Chicago, and it was outstanding. Somehow, he did an amazing summary of that material in one hour.
Two other non-lawyer presentation were James Madden and Joseph Jones. James Madden (Akron) is an engineer who focuses on automobile crashes. He lectured on accident investigation and reconstruction and shed light on the deficiencies of most law enforcement crash investigations. Joseph Jones (Little Rock) is a forensic toxicologist and the general manager of PinPoint Testing toxicology laboratory. He told us the truth about marijuana testing and legal limits for driving under the influence of marijuana.
Learning From Lawyers
One outstanding lawyer presenter was John Buckley (Denver). Before becoming a DUI defense lawyer, Buckley worked for 20 years as a paramedic. His experience included ambulances, helicopters, and a SWAT team. Due to that experience, he is very knowledgeable about phlebotomy. His presentation was focused on errors which may occur at the front-end of blood testing.
Another outstanding lawyer presenter was Rafe Foreman (Kansas City). Foreman is known for trial advocacy nationally and internationally. He is an instructor with the (Gerry Spence) Trial Lawyers College and a professor of law at the University of Missouri – Kansas City.
Foreman explained the three circles of energy and how to win voir dire, and trials, with the second circle. In the first circle, the energy is moving inward to the speaker, like the self-centered complainer everyone tries to avoid. In the third circle, the energy is forced outward toward the audience, like the aggressive attorney trying to destroy everyone with cross examination. In the second circle, energy moves in both directions between two people. Operating in the second circle, being fully present, without judgment, is a key component of Foreman's effective trial advocacy method.
Although this article summarizes only a few of the presentations for DUI lawyers, there were many great speakers this year. Next year, I will not continue as co-chair of the seminar, as I will be preoccupied with the duties of OACDL president. I'm confident the seminar chairs will produce another great seminar next year.