Lawyers disagree on what part of a trial is the most important. Some lawyers say the closing argument is the most important part because that's when we tie everything together and persuade. Others say the closing doesn't matter much: trials are lost or won during jury selection. Still others say the most critical phase of a trial is cross-examination.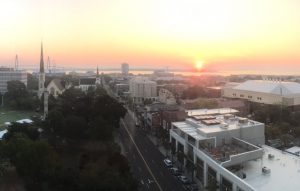 Cross-examination was the subject of a recent workshop in Charleston, South Carolina (a couple days after Hurricane Irma hit!), and I was part of the faculty for the workshop. The workshop was part of a three-day seminar presented by the DUI Defense Lawyers Association (DUIDLA), and first two days of the seminar were lectures on various DUI/OVI topics. The third day was a trial skills workshop focused on improving the attendees' cross examination skills.
In DUI/OVI cases, cross examination is very important. In all OVI trials, the defense attorney cross-examines the prosecution witnesses. In many OVI trials, there are no defense witnesses testifying, so all of the testimony comes from the prosecution witnesses. Therefore, it is critical for those prosecution witnesses to be effectively cross-examined.