Lawyers sometimes learn through trial and error;  literally.  Education at the school of hard knocks can be valuable, but learning from the experience of others has its own value.  One way attorneys can shorten the learning curve is by attending high quality continuing education seminars.  One outstanding annual seminar for DUI/OVI lawyers is 'The Premiere Ohio DUI Defense Seminar' sponsored by the Ohio Association of Criminal Defense Lawyers (OACDL).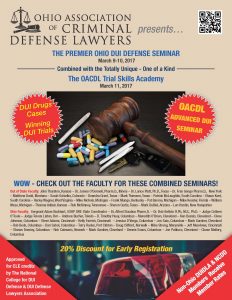 The focus of this year's seminar, held last week, was drugged driving.  Ohio has seen an increase in the number of drivers charged with OVI for being under the influence of drugs.  With medical marijuana on the horizon, it's likely the numbers of drugged driving cases will continue to increase.  With that in mind, the presentations addressed the science, the law and the litigation involved in drugged driving cases.
The Science Of Drugged Driving
Pharmacologist James O'Donnel taught the basics of pharmacokinetics.  He described, in terms understandable by non-scientists, the absorption, distribution and elimination of drugs in the human body.  Interestingly, he explained why retrograde extrapolation cannot accurately calculate the concentration of a drug in a person's system at a particular point in the past;  like when the person was operating the vehicle.