Ohio takes drivers' licenses before a person is found guilty of DUI/OVI.  If a person is arrested for DUI/OVI and tests over the limit, or refuses to test, that person's license is suspended immediately.  No judge reviews the circumstances beforehand to determine if the suspension should be imposed.  Instead, the executive branch of the government takes the driver's license automatically.
It's called an Administrative License Suspension (ALS).  The suspension is considered a 'civil' (not criminal) action, and it is imposed independent of the traffic ticket charging the person with OVI.  Ohio's administrative license suspension is similar to other states', including Florida.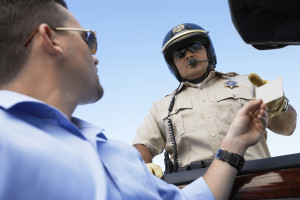 Florida's administrative license suspension is currently the subject of a class action lawsuit which alleges the ALS is unconstitutional.  The plaintiff seeks damages exceeding $50 million from the Florida Department of Highway Safety and Motor Vehicles, according to this report from Click Orlando.  The plaintiff claims the failure to have a judicial officer review the propriety of the license suspension violates the Due Process clause of the 14th Amendment.