Somewhere between ten percent and twenty percent of Americans have GERD: Gastro Esophageal Reflux Disease. While the advertisements by pharmaceutical companies have made GERD common knowledge, it is no so commonly known that this medical condition can inflate the result of an alcohol breath test. When the defendant in an OVI case has GERD, lawyers and judges find themselves at the intersection of law and science.
Science was not my best academic subject. In high school, I was one of only two people in the chemistry class not invited to the take physics. In college, I was required to take a few science courses, and I studied diligently…to find out which courses were the easiest! As a criminal defense lawyer, I was not thrilled to realize that developing expertise in DUI/OVI defense requires at least some comprehension of anatomy, physiology, chemistry, and pharmacokinetics. Although I am far from being a scientist, I have learned enough about the scientific aspect of DUI/OVI cases that I was recently asked to speak at a seminar on the topic of "Presenting A GERD Defense: Law And Science".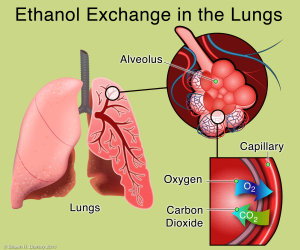 Recognizing how GERD affects alcohol breath tests requires understanding how alcohol reaches human breath. Alcohol is absorbed into the bloodstream, mostly in the intestines and some in the stomach. Blood carries the alcohol to different parts of the body, including the lungs. In the lungs, small blood vessels wrap around the ends of the bronchial trees; the alveolar sacs. At the alveolar sacs, gases from the blood, including alcohol, go into the lungs. Those gases, including alcohol, are then exhaled. If a person is taking a breath test, those gases are exhaled into the mouthpiece of a breath-testing machine.