The modern version of the OACDL annual DUI/OVI seminar began in 2002. That means this year we celebrate the 18th birthday of the seminar. I have attended every year, I have participated for many years, and I have been the co-chair for the past few years. Just like parents say about their children, I can't believe it has been 18 years. Like a proud parent, I think this seminar has matured to be one of the best DUI seminars in the country. This year's agenda featured too many speakers to name and too many presentations to summarize, but this article covers some of the highlights.
Learning From Non-Lawyers
We reintroduced a tee shirt this year with the slogan, "In God we trust…all others will be cross-examined". Despite the warning on the throwback tee, we invited many non-lawyer speakers and did not cross examine any of them.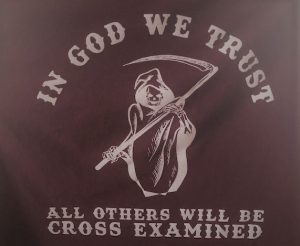 Joshua Ott (Atlanta) is a former police officer with vast experience and credentials in DUI investigations. He discussed what to look for when reviewing law enforcement videos from cruisers and body cams. His presentation highlighted issues which may arise during all phases of the DUI investigation, including the field sobriety tests.
Dr. Lee Polite (Chicago) is the president of Axion Labs, where he provides chromatography training for scientists from around the world. Dr. Polite taught the basics of gas chromatography, the method used to test blood and urine in Ohio DUI / OVI cases. I attended his three-day gas chromatography course in Chicago, and it was outstanding. Somehow, he did an amazing summary of that material in one hour.