Last week was the annual DUI/OVI seminar presented by the Ohio Association of Criminal Defense Lawyers (OACDL).  One of the slogans now attached to the seminar is 'The Premiere Ohio DUI Defense Seminar'.  When I hear that slogan, two questions come to mind:
1.  Are there any other Ohio DUI defense seminars?
2.  If so, what makes this one the 'premiere' seminar?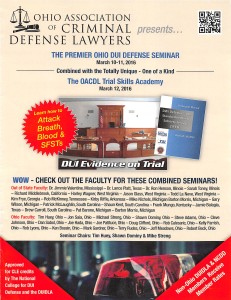 Full disclosure:  I co-chaired the seminar this year, so my opinion is probably not unbiased.
With that said, my answers are:
1.  Yes, there are, in fact, several other seminars focused on Ohio DUI/OVI, and
2.  What makes this one the 'premiere' seminar is the topic of this blog entry.
One factor which makes the OACDL seminar impressive is the sheer volume of information.  The seminar lasts for about 20 hours.  During that time, about 35 speakers give presentations on topics relevant to DUI/OVI in Ohio.  No other Ohio DUI/OVI seminar comes close to providing that amount of information.  For some, such a long seminar may sound like a nightmare.  For me, it's time well spent.