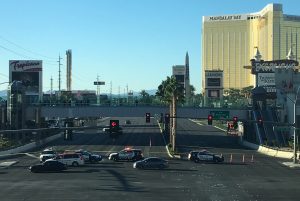 A few hours before the Las Vegas shooting, I checked-in at the Monte Carlo, four 'doors' down from Mandalay Bay. I was there to attend the DUI defense seminar presented by the National College for DUI Defense (NCDD). The desk clerk said the Monte Carlo was being renovated (no pool, no spa, nearly no restaurants), and she offered to move me to Mandalay Bay. I decided to stay at the Monte Carlo and just use the pool at Mandalay Bay. My body was still on Ohio time, so I was going to bed when the shooting started. I was aware there was a lot of noise (apparently, the Monte Carlo was locked-down), so I put in earplugs and went to sleep.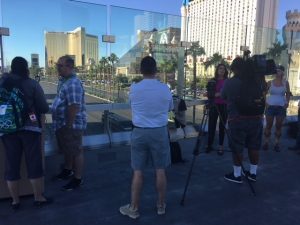 The next morning, I woke up and learned the nation's largest mass shooting took place just down the Strip. Still on Ohio time, and traveling with an Ohio police officer, I walked down to the area. Witnesses were returning from police interviews: draped in hotel towels, crying, and wearing outfits obviously selected for a country music concert. News reporters, like the one pictured here, were reporting on the incident from every angle.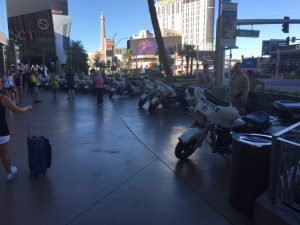 And then there was the police presence. Law enforcement had Las Vegas Boulevard shut down south of Tropicana Avenue. Police cruisers and motorcycles lined Las Vegas Blvd. from one end of the Strip to the other. Groups of officers were stationed outside each resort.