The ever-growing number of states which have legalized either medical marijuana or recreational marijuana has created a number of issues for law enforcement and the justice system. Chief among those issues is the challenge of enforcing laws against operating a vehicle under the influence of marijuana. In an effort to overcome this challenge, the Norwegian company Drauger developed the DrugTest 5000. This system uses a mouth swab, taken roadside, to help determine if a driver is under the influence of marijuana or other drugs. The DrugTest 5000 has been in use in Norway since 2015 and has seen growing use in the United States. This test, however, is probably not the solution for law enforcement's problems.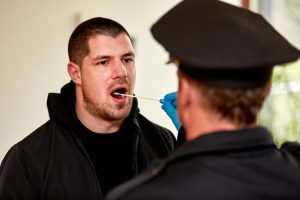 Specific Problems With The Roadside Marijauana Test
While many hope the DrugTest 5000 will be to drugged driving what a breath test is to drunk driving, there are reasons to be skeptical. The first is the DrugTest 5000 can only detect the presence of drugs in a sample, not the amount. This means the DrugTest 5000 operates like a breath testing machine that can't differentiate between a driver who had one beer and a driver who had 12.
The second reason to be skeptical is found in a 2018 joint study between the Oslo University Hospital and the Norwegian Mobile Police Service. The researchers found the DrugTest 5000 isn't able to accurately identify drugs in a driver's saliva. Over the course of the study, the DrugTest 5000 was found to have a false positive result for THC 14.5% of the time and a false negative result 13.4% of the time.