Fourth amendment law does not lend itself to mathematical formulas. Rather than using equations to decide Constitutional issues, courts look at the totality of the circumstances and make decisions on a case-by-case basis. This is particularly true when it comes to the issue of whether an officer had probable cause to justify an arrest. However, one theorem illustrated by a recent Ohio OVI case is this: clues on Field Sobriety Tests (FSTs) does not equal Probable Cause (PC).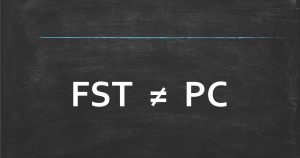 The case is State v. Kopp. An officer observed the rear license plate was not functioning on Kopp's vehicle. The officer ran the vehicle's license plate, which he could read even without the license plate light, and learned the owner of the vehicle had an expired driver license from the state of Ohio. The officer stopped the vehicle. Before stopping the vehicle, the officer had not observed any evidence the driver may be under the influence.
After stopping the vehicle, the officer learned the driver, Kopp, had a valid driver license from the state of Georgia. During the stop, the officer observed the odor of fresh marijuana, as well as the odor of alcohol, and Kopp admitted to smoking marijuana. The officer also noted Kopp's eyes were very glassy and somewhat bloodshot. The officer asked Kopp to get out of the vehicle for field sobriety testing.