The abominable snowman was arrested for drunk driving. The 'arrest' of the snowman was part of a campaign by the St. Helens Police Department to crackdown on drunk driving during the holidays. Although the arrest was fake, the message was real: DUI/OVI enforcement is increased during the holiday season.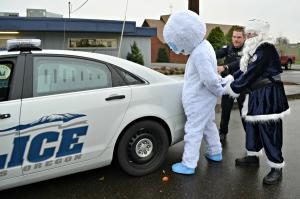 The holidays bring an increased volume of driving. According to AAA, holiday travel has increased consistently over the last nine years, and this year looks to be record-setting. In Ohio, nearly 4.5 million people are traveling for the holidays, and 90% of those are driving.
The holidays also bring an increase in accidents related to operating under the influence. The National Highway Traffic Safety Administration (NHTSA) reports that, over the last five years, an average of 300 people died in drunk driving crashes during the week between Christmas and New Year's Day. In Ohio last year, ten OVI-related crashes resulted in 13 deaths during the Christmas holiday, according to the Ohio State Highway Patrol.