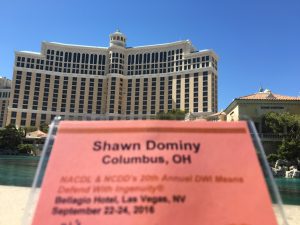 Yes, I saw Carlos Santana perform at the House of Blues.  It's true, I rented a convertible Mustang.  I admit I hiked a breath-taking trail in Red Rock Canyon.  I also acknowledge I enjoyed the luxury of Bellagio and saw amazing views from the High Roller.  However:  the primary purpose of my trip to Vegas was to learn more about DUI/OVI defense.
I recently attended the annual 'DWI Means Defend With Integrity' seminar.  The seminar is co-sponsored by the National College for DUI Defense and the National Association of Criminal Defense Lawyers.  It's held in Las Vegas each year at the end of September or beginning of October; not a bad time to be in Vegas.  The location has historically been Caesar's Palace, but for the last two years, the seminar has been held at Bellagio.  This year marks the 20th anniversary for the seminar, and I have attended for about 15 years.
This is a great seminar.  The speakers are some of the best DUI lawyers and experts from around the nation.  I have been practicing since 1997, and I have been focusing on DUI/OVI defense since 2002.  I feel like I have developed a bit of expertise in this area.  When I attend this seminar, however, I always learn more.  Hearing from the seminar faculty helps me avoid the limiting comparisons of my local market and allows me to benchmark against world class attorneys.  It also adds to my box of tools for winning.
Winning was the subject of one of the interesting presentations.  This presentation was given, not by a DUI lawyer, but world-renowned sports psychologist Dr. Allen Fox.  Dr. Fox delivered a presentation on "The Psychology Of Winning".  Intrigued to learn what the Fox says, I attended the presentation.
According to Dr. Fox, one's performance is enhanced by first ensuring one is in a good psychological state.  To be in a good psychological state, Dr Fox has six recommendations.  The first recommendation is a familiar one:  reduce the stress.  Some stress is good, as it provides motivation to perform.  Too much stress, however diminishes performance.  To achieve a good level of stress, think of the activity as a game and recognize the competition is fun and exciting.  Place less emphasis on the outcome, as you cannot control results, and focus on your performance, which is within your control.
Second, maintain the will to win.  The will to win drives high achievers to work hard, prepare and focus. Third, be confident, as confidence leads to relaxation, mental flexibility, and a convincing appearance.  Fourth, don't take the competition personally.  Maintaining negative emotions toward an opponent creates stress and drains energy.  Fifth, formulate a winning game plan.  Sixth, execute the game plan and modify it if needed as the competition unfolds.  Included in these recommendations is the golden rule of competition:  never do anything that doesn't help you win.
Dr. Fox's explanation of the psychology of winning resonates with me.  During my career, I have developed an interest in psychology, as it applies to different aspects of my practice.  Fox's recommendations are consistent with other advice I have read in psychological literature.  Some refer to it as achievement, others label it effectiveness, and I've also heard it called excellence and greatness.  Whatever label is applied, there definitely seems to be a science and an art to peak performance.
My performance as a DUI/OVI lawyer is consistently improved by the Vegas seminar.  I always return with a fresh enthusiasm for my practice.  Of course, being in Vegas for a few days certainly helps put me in a 'good psychological state', but this would be great seminar, even if it weren't held in Vegas.