Yes, I saw Carlos Santana perform at the House of Blues.  It's true, I rented a convertible Mustang.  I admit I hiked a breath-taking trail in Red Rock Canyon.  I also acknowledge I enjoyed the luxury of Bellagio and saw amazing views from the High Roller.  However:  the primary purpose of my trip to Vegas was to learn more about DUI/OVI defense.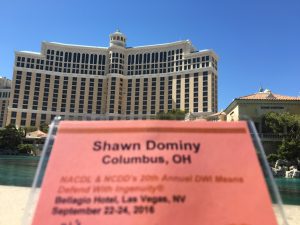 I recently attended the annual 'DWI Means Defend With Integrity' seminar.  The seminar is co-sponsored by the National College for DUI Defense and the National Association of Criminal Defense Lawyers.  It's held in Las Vegas each year at the end of September or beginning of October; not a bad time to be in Vegas.  The location has historically been Caesar's Palace, but for the last two years, the seminar has been held at Bellagio.  This year marks the 20th anniversary for the seminar, and I have attended for about 15 years.
This is a great seminar.  The speakers are some of the best DUI lawyers and experts from around the nation.  I have been practicing since 1997, and I have been focusing on DUI/OVI defense since 2002.  I feel like I have developed a bit of expertise in this area.  When I attend this seminar, however, I always learn more.  Hearing from the seminar faculty helps me avoid the limiting comparisons of my local market and allows me to benchmark against world class attorneys.  It also adds to my box of tools for winning.