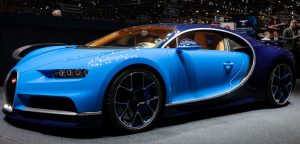 A driver may face up to two years in a German prison for driving at 257 mph on the Autobahn.  Authorities allege he was driving carelessly at an inappropriate speed.  In Ohio, we would call it reckless operation of a vehicle.  But what constitutes reckless operation?  Allegations of driving recklessly are sometimes made in the context of a DUI case (called 'OVI' in Ohio), and the issue of recklessness also arises in serious vehicular crimes, like Vehicular Homicide and Vehicular Assault.  As our firm regularly deals with the element of recklessness, this speed-testing story piqued my interest. 
Testing Top Speed
According to a video posted by Radim Passer, he bought a Bugatti Veyron and decided to test the car's top speed, which is reported to be 255 mph.  In 2015, he drove the car on a stretch of the German Autobahn and reached 250 mph, a world record speed for that car on a public road.
Passer later bought a Bugatti Chiron, which has a reported top speed of 261 mph (and a modest base price of $3,825,000). Passer wanted to test the top speed of the Chiron, so he arranged another speed test.  In July of 2021, he drove the Chiron on the same stretch of the German Autobahn and reached 257 mph.
According to BBC News, Passer is being investigated by German authorities.  It appears the YouTube video came to the attention of law enforcement, and the prosecutor's office in Stendal, Germany is now considering charges.  If charged and convicted, Passer faces up to two years in prison.
Was the Speed Test Reckless?
Section 315d of the German Criminal Code states:  "Whoever, in road traffic, moves with inappropriate speed as the driver of a motor vehicle and in gross violation of traffic regulations and carelessly in order to achieve maximum speed incurs a penalty of imprisonment for a term not exceeding two years or a fine".  There was no speed limit on that stretch of highway, and I am not sure if Passer was in gross violation of any other German traffic regulations.  Being unfamiliar with the intricacies of German law, it is more appropriate for me to analyze Passer's conduct under Ohio law.
The German law prohibits driving 'carelessly', which appears to be substantially similar to 'recklessly' in Ohio.  In Ohio, recklessness is defined by O.R.C. section 2901.22, which states:  "A person is reckless with respect to circumstances when, with heedless indifference to the consequences, the person disregards a substantial and unjustifiable risk that such circumstances are likely to exist."  That means a prosecutor would have to prove Passer disregarded a substantial and unjustifiable risk (of harm to persons or property) with heedless indifference to the consequences.  In layman's terms, Passer was aware driving that fast would probably cause harm, and he just didn't care.
How Would This Play-Out in Trial?
The prosecutor's evidence would show Passer drove 257 miles per hour, much faster than other cars he passed on the highway, and sometimes drove outside his lane.  The prosecutor would argue that even the smallest problem at that speed would certainly result in harm to persons or property, including the passenger in the Bugatti.  The prosecutor would further argue that Passer was well aware of this risk, and he ignored it due to his selfish desire to drive at extreme speeds in his $4 million car.
The defense would zoom-out and discuss the circumstances surrounding the speed test.  The video starts with Passer saying he wanted to test the top speed, "but I wanted to do it safely, and legally".  The video also shows Passer and a group of men praying about safety before and after the speed test.  He sent the car to France for an inspection, and Bugatti guaranteed the car was safe to drive at over 400 kph.  Before the speed test, he drove the stretch of highway to make sure there was nothing hazardous in the road.  During the drive, there were three spotters on bridges watching for potential hazards.  He is very experienced at driving cars at high speeds.  The speed test was conducted at 4:50 am on a Sunday, and the road in that area has no speed limit.  Passer, the defense would argue, did not ignore the risk of harm, he made preparations to avoid it.  The car was safe, he was a good driver, the road conditions were safe, and he was prepared to stop if a spotter observed something potentially dangerous.  He was not 'heedlessly indifferent to the consequences'; he took great care to be safe.
Recklessness and Other Traffic Offenses
In our practice, we sometimes represent clients charged with Reckless Operation as a stand-alone offense.  More often, we encounter that charge as a secondary violation when a client is charged with OVI.  We also represent clients charged with Vehicular Homicide and Vehicular Assault, when reckless driving causes death or serious physical harm.  We have found that no two cases are alike, and there each case involves an analysis of recklessness like the one in this article.