Joe was arrested for DUI / OVI, and the officer had Joe take a breath test and a urine test.  The breath test showed an alcohol level under Ohio's limit, and the urine test showed an alcohol level over Ohio's limit.  Based on the urine test result, Joe was prosecuted for operating a vehicle with a prohibited concentration of alcohol in his system.  Should Joe be found guilty of OVI?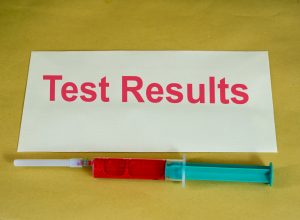 This scenario is not hypothetical:  "Joe" was my client.
Joe came to the attention of the officer because one of Joe's headlights was out.  The officer turned around to follow Joe and reportedly observed Joe's tire go over the lane line one time.  The 'marked lanes' violation was not recorded on video, although the remainder of the incident was.
The officer stopped Joe and noticed the odor of alcohol.  When asked, Joe explained he went to a wings restaurant and had a few beers with dinner.  The officer administered field sobriety tests, and Joe's performance on the tests was good but not great.  The officer arrested Joe and took him to the police station.
A Tale Of Two Tests
At the police station, the officer asked Joe to submit to a breath alcohol test.  Joe gave a sample of his breath, and the breath-testing-machine produced a result of .069 (grams per 210 liters of breath);  under Ohio's limit of .080.  The officer had Joe provide a urine sample because the officer had a hunch Joe smoked marijuana.