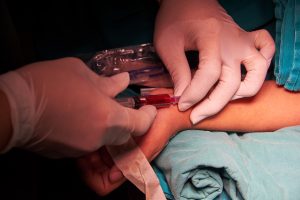 Police officers in Georgia are being trained to draw blood from drivers suspected of DUI (called 'OVI' in Ohio).  Typically, a person arrested for OVI in Ohio is taken to a police station for a breath test or urine test.  Occasionally, an OVI suspect is taken to a hospital for a blood test.  In Georgia, DUI suspects will now have their blood drawn by police officers.  Could we soon have police officers drawing blood from OVI suspects in Ohio?

Blood Test Advantages and Disadvantages
In Ohio OVI cases, three types of tests are used to determine the concentration of alcohol and/or drugs in a person's system:  breath tests, urine tests, and blood tests.  Each type of test has advantages and disadvantages.  Breath tests can be administered by law enforcement officers and provide immediate results, but they only measure alcohol levels and do not test for drugs.  Urine tests do measure drug levels, but the results are not immediate, and they are considered to be the least reliable tests.  Blood tests are considered to be the most reliable tests, but their results are not immediate, and they require the involvement of medical personnel.  But could blood tests be done without the participation of medical professionals?
Ohio Law for Drawing Blood
Ohio Revised Code section 4511.19 states:  "Only a physician, a registered nurse, an emergency medical technician-intermediate, an emergency medical technician-paramedic, or a qualified technician, chemist, or phlebotomist shall withdraw a blood sample for the purpose of determining the alcohol, drug, controlled substance, metabolite of a controlled substance, or combination content of the whole blood, blood serum, or blood plasma. This limitation does not apply to the taking of breath or urine specimens."
For a police officer to draw blood for OVI cases (assuming the officer is not a physician/nurse/EMT/chemist) the officer would need to be a "qualified phlebotomist".  A phlebotomist is a person who collects blood.  The ORC section quoted above does not define "qualified phlebotomist".  Phlebotomists may be certified by the National Healthcareer Association, but Ohio law does not require a phlebotomist to be certified.  So long as a law enforcement officer completes a phlebotomy course, the officer would likely be considered a "qualified phlebotomist", and could therefore draw the blood of OVI suspects.
Ohio Could Use Phleboto-Cops
Training officers to become "qualified phlebotomists" would eliminate the need to involve medical personnel in blood tests for Ohio OVI cases.  Having officers draw blood would also save time, as the officer would no longer need to take suspects to hospitals for blood to be drawn.
If officers are trained to draw blood for OVI cases, the blood collection and testing would still need to comply with Ohio regulations for blood tests.  For example, the draw must be done using certain types of antiseptic, needles, and containers.  In addition, the blood samples need to meet state requirements regarding sealing, labeling, and refrigeration.
To draw blood from an OVI suspect, whether or not the officer is a "qualified phlebotomist", an officer must first obtain a search warrant from a judge (in most circumstances).  A search warrant is not required for a breath test, and it is debatable whether a warrant is required for a urine test.  Whether the search warrant requirement for blood testing is an advantage or disadvantage is a matter of opinion.
Coming to a Police Department Near You?
Becoming a "qualified phlebotomist" appears to be easy, and blood testing has advantages over breath testing and urine testing.  For these reasons, it is plausible that Ohio law enforcement officers may draw the blood of OVI suspects in the near future.  If so, OVI defendants would be wise to consider hiring a law firm whose attorneys understand blood testing and keep informed of trends in OVI cases.