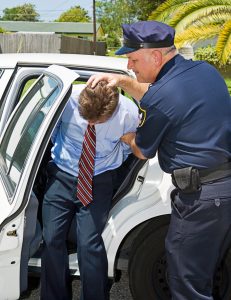 I have recently had the privilege of working on OVI cases with attorney Eric Holloway.  In addition to OVI defense, Eric also represents clients in civil rights cases, including cases involving false arrest.  As a follow-up to the last blog entry, 'Uncovering False Arrests In DUI/OVI Cases', I asked Eric to summarize the options of a person falsely arrested for OVI.  Eric agreed to be a guest blogger and prepared the remainder of this article.
The handcuffs clamp down tight on your wrists; sweat beads up on your forehead.  The police officer just told you, "You're under arrest."
You did nothing wrong, yet you face the full gauntlet of the criminal justice system.  And you just know the police officer had no grounds to arrest you.  In time, the criminal justice system agrees with you.  In time, the charges are dropped or the jury finds you not guilty.  Now what?
You might think of taking the police officer to court as the next step.  While that is an option, another step should be considered first.  Instead of civil damages, think about your pre-arrest record.  It was probably clean – maybe a speeding ticket or two.  But, even though you won the DUI/OVI case, the charge(s) will show up on your criminal record for anyone to see.  That includes any future employers and many others.
Ohio allows such criminal charges to be removed.  Under Ohio Revised Code section 2953.52, a person who defeated the criminal charges in one of the ways discussed above may ask the criminal trial court to seal the "person's official records in the case."  The request may be filed "at any time" after the criminal case is resolved in your favor.  The criminal court may issue up to two types of relief if it grants your request.  First, it can remove the arrest information and charges from your record from criminal databases.  Second, it can seal the court case records so the criminal case would never appear in the court's records.
After cleaning your record up, you then want to think about any possible federal claims you might have against the arresting officer.  There could be state law claims, too, which are not addressed here.
You might have a federal civil rights claim for false arrest, among other claims.  To prove this civil rights claim, first you must show the defendant officer acted under what is called "color of state law."  Basically, if you show the defendant was working as a police officer when he or she arrested you, you meet this requirement.
Next, you must show that the defendant officer deprived you of a federally protected right.  For a false arrest claim, that means you show that your Fourth Amendment rights were violated.  To that end, you must plead and prove that the arresting officer had no probable cause to arrest you, according to Sykes v. Anderson.
What 'probable cause' means can take weeks in a law school classroom to learn.  In short though, in this context, it means if most officers would have arrested you, then probable cause existed to have arrested you, which would defeat any false arrest claim.
In the civil rights context, probable cause has a specific meaning.  According to Drake v. Village of Johnstown, Ohio, probable cause means that, "facts and circumstances within the official's knowledge…are sufficient to warrant a prudent person in believing, in the circumstances shown, that the suspect has committed or is about to commit an offense."  The case of Illinois v. Gates tells us there need not be actual criminal activity taking place:  the mere "probability or substantial chance of criminal activity" can establish probable cause.
False arrest is difficult to prove – perhaps with good reason.  Society wants and needs people to serve as police officers.  If officers are subjected to civil rights lawsuits for arresting people, we may not get enough people to serve as police officers.  On the other hand, society also wants its government workers to respect both the law enforcement authority granted to it by the people and the people, too.
Still, when the facts are right, false arrest claims should be pursued.  Your false arrest claim could help vindicate your rights and prevent someone else's rights from ever being violated.
J. Eric Holloway, Esq.
5650 Blazer Parkway, Suite 100
Dublin, OH 43017
(614) 734-8340