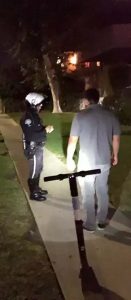 Electric scooters are a thing. In cities across the country, people are riding them, and leaving them, everywhere. During my recent trip to Santa Monica, I decided I would rent one and ride it on the bike path along the beach ("The Strand"). It turns out e-scooters were banned on The Strand, so I rented a bike. Some people rode electric scooters on The Strand anyway, apparently unconcerned about breaking the law. One Santa Monica scooter rider was prosecuted for breaking the law in a different way: driving drunk on an e-scooter. Could someone in Ohio be prosecuted for DUI/OVI on an e-scooter?
Is An Electric Scooter A "Vehicle" Or A "Motor Vehicle"?
Ohio Revised Code section 4511.19 prohibits operating a vehicle under the influence of alcohol or drugs. The question is whether an electric scooter is a "vehicle" subject to the OVI law. The relevant definitions have changed over time, as chapter 4511 of the Ohio Revised Code is amended frequently. In fact, section 4511.19 has been amended about 20 times since 1982.
Currently, a vehicle is defined by ORC section 4511.01(A) as follows: Continue Reading