When a trooper's DUI charge is dismissed, it may appear the trooper is getting special treatment. In the case of N.C. trooper Dennis Tafoya, the DUI charge was dismissed because the evidence didn't prove he committed a crime. Although he may have been very intoxicated while sitting in his car, the car was not running. In North Carolina, that is not an offense. In Ohio, the law is different.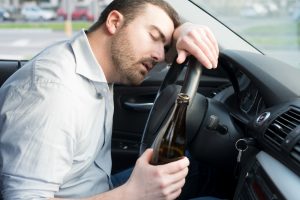 According to the news report about the trooper's case, officers found him passed out in the driver's seat of his vehicle, parked near the courthouse. The officers ordered him out of the vehicle and asked him if the vehicle was on. He said yes. The officers determined the trooper was intoxicated, arrested him, and charged him with DUI (called "OVI" in Ohio).
Footage from the officers' body cameras showed the trooper's vehicle was not running. One of the officers went to move the car and learned the keys were not in the ignition. It turned out the keys were in the trooper's pants pocket the entire time: they were not in the ignition when the officers arrived. Once the officer got the ignition key from the arrested trooper, the officer found the trooper's vehicle was in gear. The vehicle was apparently a stick shift, so, if it was in gear, it could not have been running.