How frustrating would it be if your car won't start because you recently used mouthwash, put on cologne, or ate a cinnamon roll? That frustration could be real if the federal government ultimately requires alcohol sensors in cars. According to the Columbus Dispatch, federal officials recently announced plans to implement a technological advancement in alcohol-detecting sensors for vehicles. The government anticipates the new alcohol sensors could significantly reduce drunk driving. The sensors may also increase headaches for non-drinking drivers.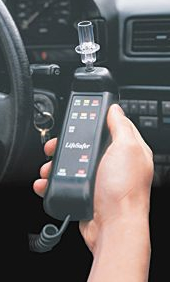 There are two ways alcohol sensors could be used in vehicles. First, a vehicle could be equipped with passive breath sensors to detect alcohol in the air inside the car. If the concentration of alcohol in the vehicle's interior air exceeds a predetermined limit, the vehicle would not start.
Passive breath sensors may suffer from the same problem associated with ignition interlock devices. Those devices require the driver to blow into a tube with alcohol-free breath before the vehicle will start. The problem with interlock devices is false positives: the device prevents the vehicle from starting when the driver consumed no alcohol. Causes of false positives include mouthwash, toothpaste, bread, pastries, spicy foods, and high-protein diets.