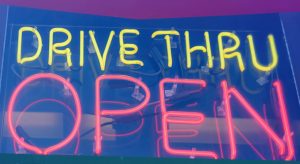 Some people can't resist. After having drinks, they get a craving, and they have to satisfy it. For some, it's tacos or wings. For others, it's burgers and fries. It's typically not broccoli and kale. And then they go to a drive-thru when perhaps they shouldn't be driving, and they end-up arrested for DUI/OVI. Two recent news-making DUI arrests demonstrate the danger of caving to cravings and driving-thru instead of staying home.
It Happens At The Drive-Thru
In the first case, former NFL running back Darren McFadden was reportedly found asleep in the drive-thru of a Whataburger in Texas. Police were called to the scene, and McFadden allegedly resisted their attempts to apprehend him. Strangely, after being uncooperative, he consented to a chemical test, and the result showed a blood alcohol concentration of .15 or greater. He now faces charges of DUI and resisting arrest, which means a possible sentence of two years in jail.
In the second case, Pennsylvania state representative John Galloway allegedly was involved in a two-car accident in a McDonald's drive-thru. Swartara Township police officers investigated the accident and found Galloway was at fault. They also found he appeared to be under the influence, so they gave him a BAC test. The result of the test was a blood alcohol concentration of .13 (the 'legal limit' is .08).
It Happens Fairly Frequently
At the Dominy Law Firm, we have represented numerous clients who were arrested at drive-thrus or had recently left a drive-thru. Some of those clients were on their way home, but many were at home and decided to leave for a fast food fix. A few have been during the day, but the vast majority are late at night.
After 10 pm, driving through Taco Bell or White Castle almost creates probable cause for a traffic stop! There are police officers who patrol small areas densely populated with restaurants looking for reasons to pull people over. It's like shooting fish in a barrel. In addition, fast food employees regularly call the police to report people who are passed out, being disorderly, or otherwise suspected of being intoxicated.
Drive-Thru Last Night, Dominy Law Firm Today
Being arrested for a drive-thru DUI does not make the case hopeless. In fact, this scenario can lend itself to unique defenses. We have seen situations where the traffic stop was based entirely on a report from a restaurant employee, and the employee is either no longer available to testify or did not have a reliable basis for making the report. We have also seen situations where a sleeping client was quickly arrested or taken to the hospital without any testing to determine whether their condition really was related to intoxication.
In addition to the issues unique to drive-thru arrests, there are other defenses common to most OVI / DUI case. Did the officer administer the field sobriety tests correctly. Was there probable cause to arrest? Was the breath/blood/urine test administered in compliance with Ohio regulations? Is there proof the person's ability to drive was impaired?
The attorneys at the Dominy Law Firm have handled many drive-thru DUI/OVI cases. While we can certainly help if you are charged, we are convinced the best place to find your post-drinking fourth meal is your dining room, not the drive-thru. If you really need a fast food fix, don't make a run for the border: try a delivery service like UberEats, Doordash, or Grubhub.