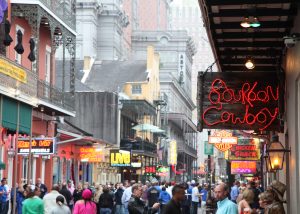 DORA may be coming to a city near you. Not Dora the Explorer with her singing map and backpack. DORA the law which allows cities to have Designated Outdoor Refreshment Areas. In a DORA, people can walk around with open containers of alcohol purchased from local establishments. The idea behind DORAs is to spur economic development, and cities across Ohio are now implementing DORAs. Here are some facts about DORAs you may be interested to know before visiting one.
What Is The DORA Law?
Ohio Revised Code section 4301.82 authorizes municipal corporations and townships to establish Outdoor Refreshment Areas (DORAs). The executive officer or fiscal officer must submit an application to the legislative branch of the city or township. If the legislature approves, the DORA is created. The city or township then obtains a permit from the Ohio Division of Liquor Control. Establishments then obtain 'Outdoor Refreshment Area' designations on their liquor permits. The law was passed in 2017, and many cities in central Ohio are now implementing DORAs, so expect to see them near you in 2020.
There are some limitations to the DORA law. Bigger cities (over 50,000 people), may create only two DORAs, and smaller cities and townships (35,000 to 50,000 people) are limited to one DORA. The maximum DORA size for those cities and townships is 320 contiguous acres or ½ square mile. Cities and townships under 35,000 residents may also create a DORA, but only if the area includes at least four establishments which are 'qualified permit holders', and the maximum size is 150 contiguous acres.
What Is Permitted and Prohibited In A DORA?
In a DORA, you are permitted to carry open containers of alcohol if the alcohol was purchased from an establishment with an 'Outdoor Refreshment Area' designation. The Ohio law essentially says that, while in a DORA, you are exempt from the Open Container law. To be exempt, however, you must follow the rules.
You can take your drink into non-liquor serving establishments, but only if the establishment permits it, so don't go rushing into the art gallery with your sloshing beer. You cannot take drinks into another DORA-approved establishment. You also can't take the open container outside the boundaries of the DORA: no 'roadies'. You are not permitted to take drinks from outside the DORA boundaries into the DORA boundaries. If you were hoping to walk around your local DORA with your cooler of beer from home, you will be out of luck. Finally, even within the boundaries of the DORA, you cannot have an open container of alcohol in a vehicle.
DORA & DUI
It will be interesting to see if DORAs result in an increased number of drunk driving arrests. Walking around the city drinking alcohol creates a more party-like atmosphere. Cities like New Orleans and Las Vegas have had DORAs for a long time, and there is no shortage of partying in those cities. But people don't typically drive home after drinking in the French Quarter or on The Strip.
In central Ohio, more people drive to and from the locations where they drink alcohol. If that location is a DORA, will people consume more alcohol than they would have elsewhere? [Side note: A particularly bad combination is the relaxed open container law and the abundance of rentable e-scooters. Yes, you can get a DUI/OVI on a scooter.] The key is to follow the DORA rules, don't overindulge, and plan ahead for your transportation home so you don't need the services of DUI/OVI lawyers.