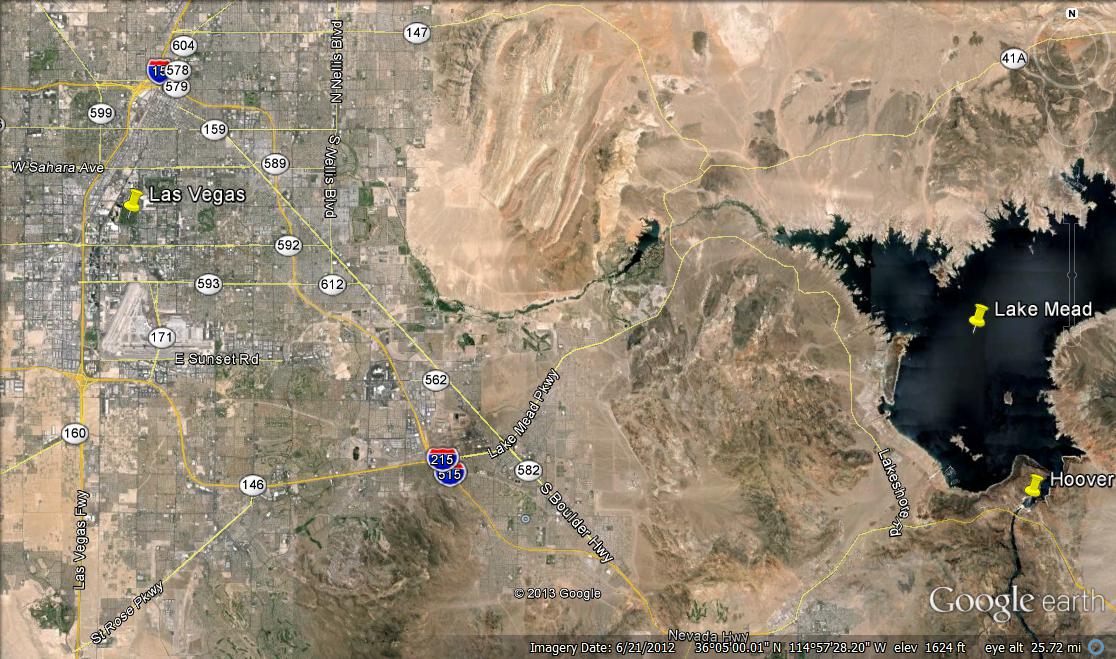 What happens in Vegas stays in Vegas, but what happens near Vegas gets broadcast for the world to see. That's what Erin Brockovich found out a few days ago when she was charged with Boating Under the Influence on Lake Mead, just outside Las Vegas, Nevada.
After reading the news coverage of her case, I compared the B.U.I. laws of Ohio and Nevada and concluded Ohio has relatively tough sentences for boating under the influence.
According to the 'Boating Crime Report' from the Nevada Department of Wildlife, Brockovich and her husband attracted the attention of an officer at marina near Hoover Dam. They were arguing on their docked boat, she threw a cell phone into the water, and she appeared to slap him. Her husband apparently got off the boat, and she began to back the boat away from the dock when the officer stopped her. The officer observed beer on the boat and also observed that Brockovich was slurring her words when she spoke. The officer administered field sobriety tests and two portable breath tests. The officer arrested Brockovich and took her to a ranger station where she took two additional breath tests. The results of the tests were .160 and .163.
The Ohio law which prohibits boating under the influence (BUI) is similar to the equivalent law in Nevada, but Ohio's sentences are harsher. Ohio law says no person shall operate (or be in physical control of) a boat (or other vessel) if the person is under the influence of alcohol and/or drugs. Like the Ohio O.V.I./D.U.I. law, the Ohio B.U.I. law also makes it illegal to operate a vessel with a prohibited concentration of alcohol (.08) and/or other drugs.
Unlike the Nevada law, Ohio law has a mandatory jail sentence for anyone convicted of boating under the influence in Ohio. For a first offense, the minimum jail sentence is three days, the maximum jail sentence is six months, and a judge can permit the defendant to serve the three-day minimum sentence in a driver intervention program. For a second offense within six years*, the minimum jail sentence is ten days, and for a third offense within six years, the minimum jail sentence is 30 days.
For any Ohio B.U.I. offense, a judge can impose a fine of up to $1,000 and can also impose a period of community control (probation). Community control may include sanctions like drug/alcohol counseling, abstaining from alcohol and drugs, submitting to random drug/alcohol tests, and performing community service. A conviction for B.U.I. does not lead to a driver's license suspension, but the conviction will count as a 'prior conviction' and increase the sentence if the person is later convicted of O.V.I./D.U.I. in an automobile.
The Nevada law for B.U.I. does not have mandatory jail, does not have the possibility of probation, and does not count a B.U.I conviction as a 'prior offense' that enhances subsequent D.U.I. convictions. Nevertheless, Erin Brockovich is facing up to six months in jail and a fine of up to $1,000 when she appears in the Henderson, Nevada Justice Court. Possibly worse, what happened near Vegas did not stay near Vegas; her unflattering photo and arrest report were disseminated across the internet for the whole world to see.
*The 'lookback period' for Ohio BUI charges was increased to ten years on April 6, 2017.